Integrate Your Instrument
The Vanquish system meets mass spectrometry. Our pioneering UHPLC system combines seamlessly with our best-in-class mass spectrometers to provide that extra level of confidence and productivity. Only detecting a peak is no longer sufficient; you have to know what that particular peak is.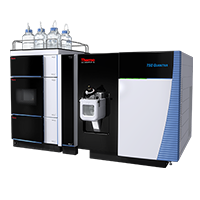 Quantitation Transformed
Use the throughput that can be achieved on the Vanquish system to transform your targeted quantitation. Exceed even the most stringent research and regulatory requirements with Thermo Scientific™ Triple Quadrupole LC-MS systems for the maximum quantitative performance and value with ultimate robustness and ease of use.
Triple Quadrupole LC-MS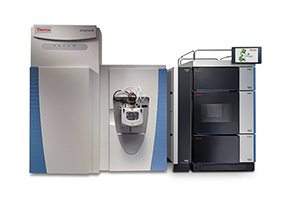 Unique Specificity
Complement the separation performance of the Vanquish systems with the specificity and confidence of high-resolution, accurate-mass (HRAM) detection with Thermo Scientific™ Orbitrap™-based LC-MS systems. With excellent dynamic range and sensitivity, Orbitrap-based systems are uncompromising in their performance for characterize, quantify, and confirm in a single analysis.
Orbitrap LC-MS
The Gold Standard Chromatography Data System Goes MS
Enjoy the user experience of Vanquish UHPLC-MS Systems with Thermo Chromeleon 7.2 Chromatography Data System (CDS) software.
Chromeleon CDS offers a single point control for seamless LC-MS quantitation workflows and extends beyond control, processing and data management of Vanquish UHPLC-MS Systems.
Chromeleon CDS allows LC-MS remote control with enhanced data security.
Chromeleon CDS
Standard Instrument Integration
Control and process data from Vanquish UHPLC-MS Systems with easy-to-use Thermo Scientific™ Xcalibur™ and TraceFinder™ software packages.
Xcalibur software integrates seamlessly with a vast range of additional Thermo Scientific LC-MS software for specific applications.
Rely on the improved instrument control usability with the new released Thermo Scientific Standard Instrument Integration (SII) for Xcalibur.
Xcalibur
TraceFinder