Next Generation UHPLC Technologies: Change the Landscape in LC
This webinar is all about UHPLC performance. How can new column technology, delivering the best separation power, be married with the best UHPLC hardware to ensure that the result is an outstanding one? How can we as chromatographers ensure that even very complex and unfamiliar samples are assayed with the highest scrutiny possible? Learn about how to get the most out of solid core column technology with the right UHPLC system and how to achieve both maximum speed and resolution with your separations.
Going Beyond Performance Limitations in UHPLC for the Utmost Analytical Benefit
This webinar will demonstrate how to go beyond performance limitations by reviewing the fundamental considerations of how UHPLC can be optimized for analysis speed, resolution and peak capacity. We will also discuss selecting columns with totally or superficially porous phases in different formats under the favourite eluting conditions and the key instrumental pre-requisites. Performance examples from the fields of pharma and biopharma analysis, as well as natural product screening will be presented as practical examples on what can be achieved on the Vanquish UHPLC system.
Revolutionize Your UHPLC Experience
Liquid chromatography, an instrumental technique of analytical chemistry has found a home in a multitude of industries including clinical applications, forensics, research, and manufacturing. Over time, HPLC systems have delivered dramatic increases in analysis speed, sensitivity, and throughput. Join Lab Manager's interactive webinar as our panel of experts discusses the latest in HPLC / UHPLC technology, column chemistries, and new and improved analytical techniques.Learn more about recent trends and innovations in HPLC/UHPLC technologies, factors that should be considered when selecting the right HPLC/UHPLC system and the latest column chemistries and new and improved analytical techniques.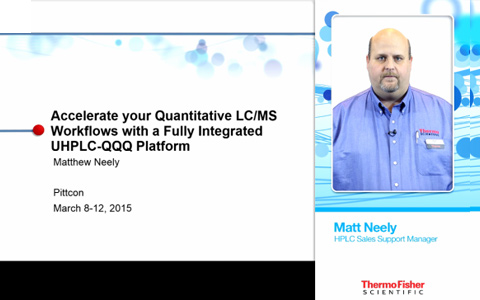 Pittcon 2015 Presentation: Accelerate Your Quantitative LC/MS Workflows with a Fully Integrated UHPLC-QQQ Platform
Watch
Pittcon 2015 Presentation: Accelerate Your Quantitative LC/MS Workflows with a Fully Integrated UHPLC-QQQ Platform
The improved data reliability provided by MS detection and its increased accessibility have resulted in widespread adoption of this technology in analytical laboratories for research and routine applications. The maximum ROI from the MS can only be reached with optimized sample introduction and separation that can be provided by modern UHPLC systems. The Vanquish UHPLC system is the ideal MS front-end system. It combines power and analytical precision to fulfill the requirements of the most demanding LC/MS analysis. Combined with Thermo Scientific state-of-the-art triple quadrupole MS instruments and Chromeleon CDS with MS instrument control and data analysis, the Vanquish UHPLC system brings quantitative LC/MS analysis to the next level. Here we report on a fully integrated UHPLC-QQQ platform to accelerate quantitative LC/MS workflows.
Pittcon 2015 Presentation: Revolutionize Your UHPLC Experience
The Vanquish UHPLC system addresses the needs of chromatographers performing state-of-theart UHPLC, within a single integrated platform, all while meeting the throughput demands of modern laboratories. The system offers better separations from improved specifications on all fronts, and supports higher backpressures, better thermostatting, optimized volumes, better linearity, advanced column technology, increased sample capacity and more sensitivity. No longer fear the deadline — rely on the Vanquish system to take it head on. Easier interaction with an optimized design, automated features and works with the operational simplicity of Chromeleon CDS.